Formed in 1885, the Bar Harbor Yacht Club is one of the oldest yacht clubs in New England. Through its windows, five generations of folks who love the water have watched their children learn to sail, their boats ride out storms and the ebb and flow of Frenchman Bay's ten foot tides.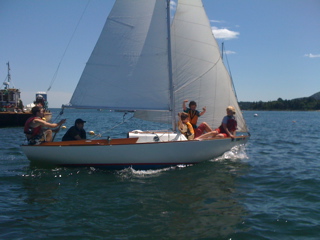 The clothes, cars and hairstyles change over time, but not the reason people come here.
From the Bar Harbor Yacht Club, members and their guests are treated to a panoramic view of Frenchman Bay that is unlike any other in Bar Harbor. Bar Island, the Porcupines, Gouldsboro, Summer Harbor, Sorrento; nearly 90% of the Bay is visible from our pier. Our older members find that with a good pair of binoculars and a comfortable chair, they can watch their grandchildren sail for hours or count lobsters as they are hauled aboard the local fishing boats. Friendly social functions, great views, a sturdy pier and an afternoon sail with your best girl... what could top that?
We're hard to find... Impossible to forget.